Electric jackshaft garage door operators are a great fit on just about any standard, highlift or vertical lift sectional overhead door.  For wet conditions; choose our washbay or carwash opener models which include additional features that work well in most high moisture or wet conditions.
These high quality operators can be wall, hood, or shelf mounted on either side of the door and can be installed in an equipment room away from wet conditions.
60 Hz. high starting torque, continuous-duty, single phase capacitor start or 3 phase motor.
5L/B V-belt, chain &  sprocket reduction.
#50 roller chain & sprocket on final drive.
1'' output shaft with 1/4" key way.
Operator sprocket: 50B12
Output shaft speed: 41 rpm.
Mechanical brake.
Control box and limit shaft supported by frame.
Ball bearings at all critical points.
Precision ball bearings on input shaft.
Linear-driven limit switch system.
Baked-on long lasting enamel finish.
Shafts protected by yellow chromate coating.
2 Year Warranty
Additional & Protective Features:
Floor level disconnect mechanism for manual push-up operation.
Adjustable friction clutch.
Full overload protection.
Unique fuse control circuit protection.
Washbay Operator Additional Features:
TEFC motor (totally enclosed, fan-cooled)
NEMA 4/12 Open, close & stop control station
NEMA 4/12 Control box
NEMA 4/12 Photoeyes
Seal-tight conduit & connectors
Easy Installation & Maintenance
Universal mounting.
Easy access to mounting holes.
Accu-cam®: precise and quick limit setting by single hand operation.
Motor removable without affecting the limits.
Control box may be lifted to access reduction sprockets and chain
Pivoting motor bracket.
Hinged electrical enclosure cover with stable opened position.
Angled terminal strip.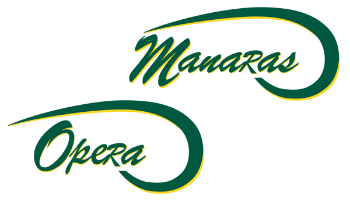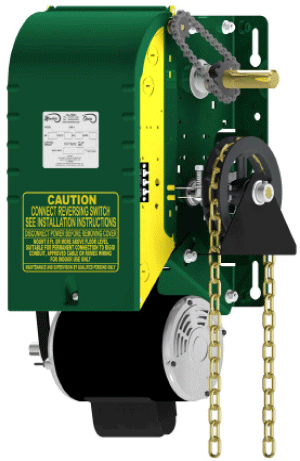 NEED HELP CHOOSING THE RIGHT DOOR OPERATOR FOR YOUR PROJECT? GIVE US A CALL TODAY AT 800-233-1487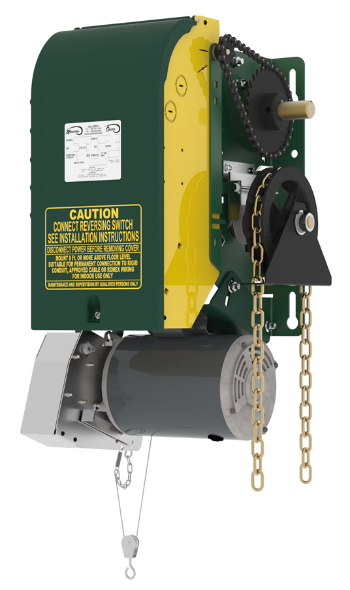 The Rapido™ RSH is a high-speed heavy-duty V-belt drive industrial operator designed for use on properly counter-balanced standard, high and vertical lift sectional doors, weighing a maximum of 750lbs*.
The Rapido™ RSH offers up to 2X the speed of the standard jackshaft operator while smoothly managing Soft-Starts and Soft-Stops, therefore reducing the wear and tear of the complete door system. The operator can be wall or shelf mounted on either side of the door. It incorporates a chain hoist for manual operation, with a floor level engaging device.
The Manaras-Opera control is based on its legendary Electronic Control Board which delivers high performance and reliability while providing on-board control plus speed managing features