FULL VISION GLASS GARAGE DOORS
Designed And Manufactured For High Visibility And High Use Environments
High-quality, clear, tempered glass with high-strength aluminum frame makes the Ultraclear the clear choice for any situation that requires full visibility through the door. An excellent choice for: Car washes, auto dealerships, service stations, fire departments, lube shops, swimming pools, restaurants, store fronts and many others.
Constructed of the most advanced materials available. Ultraclear doors deliver state-of-the-art features to provide you with maximum durability in both standard and demanding applications.
Designed for high use applications, Ultraclear doors feature a better system design and superior hardware that ensures reliable operation year-after-year.
Engineered and manufactured for minimal maintenance and service. Reduces annual costs and delivers a better overall value for your operation.
Complete Weather Protection
Protects customers, vehicles, building interior and equipment from wind, cold weather and other elements. Choose from single pane or insulated glass panels. Panels are fully-gasketed and sealed for complete climate protection.
Clear, Safe, Tempered Glass Panels
Beveled Aluminum Stiles & Rails- No Watertraps!
3" Angle Mounted Track - Up to 4' Highlift
Extended 1" Solid Keyed Shaft
Headplates On Most Highlift Track Configurations
100,000 High Cycle Springs (up to 144sq. ft) or Counterweight System
Bottom Rubber Bulb Weatherseal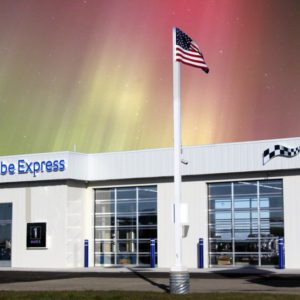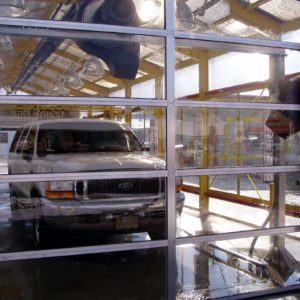 Ultraclear Door Information Request
NEED HELP CHOOSING THE RIGHT DOOR PACKAGE FOR YOUR PROJECT? GIVE US A CALL TODAY AT 800-233-1487
Advanced Materials, Superior Product.
5/8" Insulated or Single Glass Panels Sealed insulated 5/8" tempered glass provides maximum visibility and exceptional strength. 1/8" glass or other panel materials available.
Aluminum Alloy Frame Corrosion resistant aluminum stiles with beveled rails provide a strong, durable frame that naturally sheds moisture. 4" heavy duty bottom rail ensures bottom section integrity. Available in powdercoat or anondized finishes to match your color theme.
Panel Gasket Flexible gasketed frame seals glass from exterior elements and air infiltration.
Beveled Aluminum Rails Tongue & groove and beveled meeting rails shed moisture and eliminate watertraps.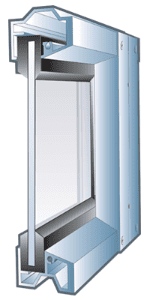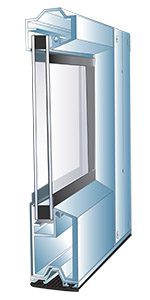 Hardware Packages To Meet Your Needs
Several hardware models are available to meet your building exposures, environment, amount of use and other requirements. Select the model that fits your buildings requirements and exposures to moisture, corrosion and other contaminants. Each model includes a different combination of materials ranging from corrosion-resistant galvanized hardware, to completely rust-resistant stainless steel.