HIGH SPEED DOOR OPERATION FULLY ADJUSTABLE TO YOUR APPLICATION
The SmartJack is the world's most intelligent commercial door operator. Built to withstand the harshest high-cycle environments imaginable, SmartJack comes standard with several exclusive features that will change your door system forever.
Slow start, slow stop functionality for smooth door operation.
Sealed gearbox and motor enclosure.
Advanced door collision protection.
Password secure.
Remote control compatible.
Auto close timer.
Infinitely adjustable programming options for motor timeout, auto close and other useful door parameters.
Choice of incoming power, 120VAC single phase, 230 or 460 VAC Single or
Three Phase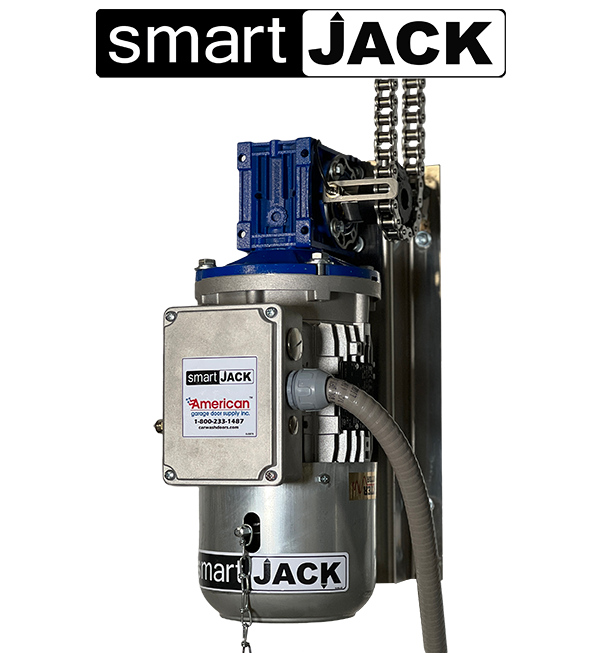 industry leading quiet & smooth door operation
The SmartJack door operator is up to 70% more quiet than typical commercial door operators. This feature makes it the prime choice for noise sensitive areas such as hospital buildings, schools, restaurants and other professional buildings where noise is a factor.
Advanced features paired with precise electronic control make the SmartJack a perfect fit for any facility.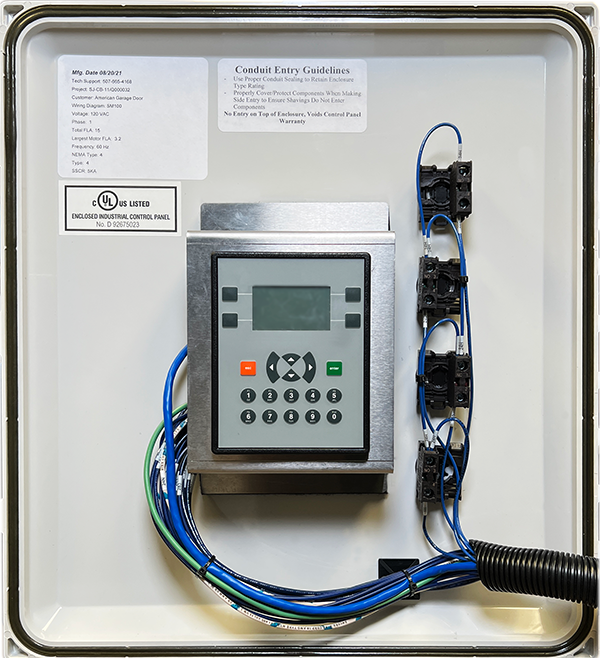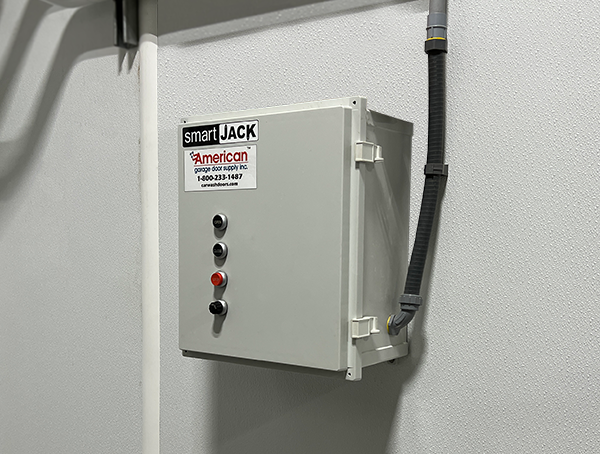 Enclosure is Nema 4X rated.
Auto/Hand Switch mounted on the cover of the enclosure.
Disconnect handle mounted on the cover of the enclosure.
Encoder for positioning.
Sensor for full closed position.
Variable Frequency Drive to control motor speeds and direction.
Open, Close and Stop buttons mounted on the enclosure Door.
Intelligence meets durability
The SmartJack operator knows the door position at all times allowing for fine tuning of the doors function. You can set and configure the door travel to precisely suit your building's needs.
compatible with most door accessories
Upgrading an existing door operator? The SmartJack integrates with most major brands of door accessories available today, including the following:
Safety Edges (wired or wireless) 
Safety Eyes (standard or UL325) 
Light Curtains of any length Loop Detectors 
Radio Controls 
3-Pushbutton Stations
Fully adjustable acceleration, deceleration, full speed & slow speed functions.
Individual tuning for the points at which the door slows down in the open and closing position
remote mounted control box
The SmartJack control panel can be mounted in the wash bay or an adjacent room, providing you with flexibility when it comes to new construction or door retrofit projects. Connect a typical 3 button switch to the SmartJack panel and control your door from anywhere in the building.
Programmable Inputs / outputs
Integration and automation is more important now than ever before, and the SmartJack allows for seamless control of multiple inputs and outputs for your door system.
Want to shut down your building's heater or HVAC system when your doors are open? Use one of the SmartJack's door open outputs to interrupt the circuit.
Already have a series of loop detectors and other safety equipment from an existing install? Simply connect them to the SmartJack input terminals, it's that easy.
The SmartJack programmable logic controller has an input / output screen that will display when an input or output is being triggered, making on-site installation and troubleshooting a breeze.
SmartJack Electric operator information Request