We have a new site dedicated to helping you find stainless steel garage door parts for your facility. Click here to shop stainless steel rollers, face hardware, bearing plates and other useful garage door items.
Stainless steel garage door hardware is essential for keeping doors in high-moisture and other extreme environments as free from corrosion and rust as possible. Choosing stainless steel means more days up and running; it also means saving time and money down the road. For garage door systems to survive and thrive under extreme conditions, stainless steel is the best material for the job and outlasts all other materials available in the market.
Designed for the toughest applications on earth, our exclusive line of stainless steel and other specialty garage door hardware virtually eliminates the problems that deterioration due to rust and corrosion create in wet, dirty and corrosive environments. Stainless steel provides a high-quality and clean appearance while withstanding the test of time in punishing car, truck or other wash-down environments.
 Pioneers of Stainless Steel Garage Door Track & Hardware
We developed heavy duty stainless steel track and garage door hardware to give you the toughest rust-proof garage door products in the industry.  Select our "Gold" or "Platinum" hardware models with your carwash garage door to ensure your door will withstand the test of time in the most punishing environments like car and truck washes.
Incredibly tough, wear and crack resistant, our 2" or 3" track, torsion springs, bearing plates, bearings, shaft, cable, fasteners, 12ga. face hardware and pusher springs are manufactured with high quality 300 grade stainless steel. Provides you with the rust-free durability you need in wet, corrosive environments like car and truck wash applications.
Universal Design
Fits almost any sectional garage door. Easy To Install!
Rust-Resistant
Manufactured with high quality 304 Stainless Steel for unequalled corrosion resistance and durability in any corrosive application.
Wear and Crack Resistant
Designed and manufactured for dependability in punishing high use environments.
Clean
Excellent in any clean room or wash down area requiring minimal bacteria growth in high moisture environments.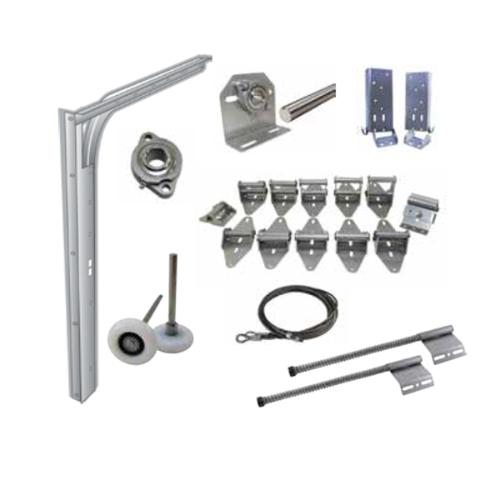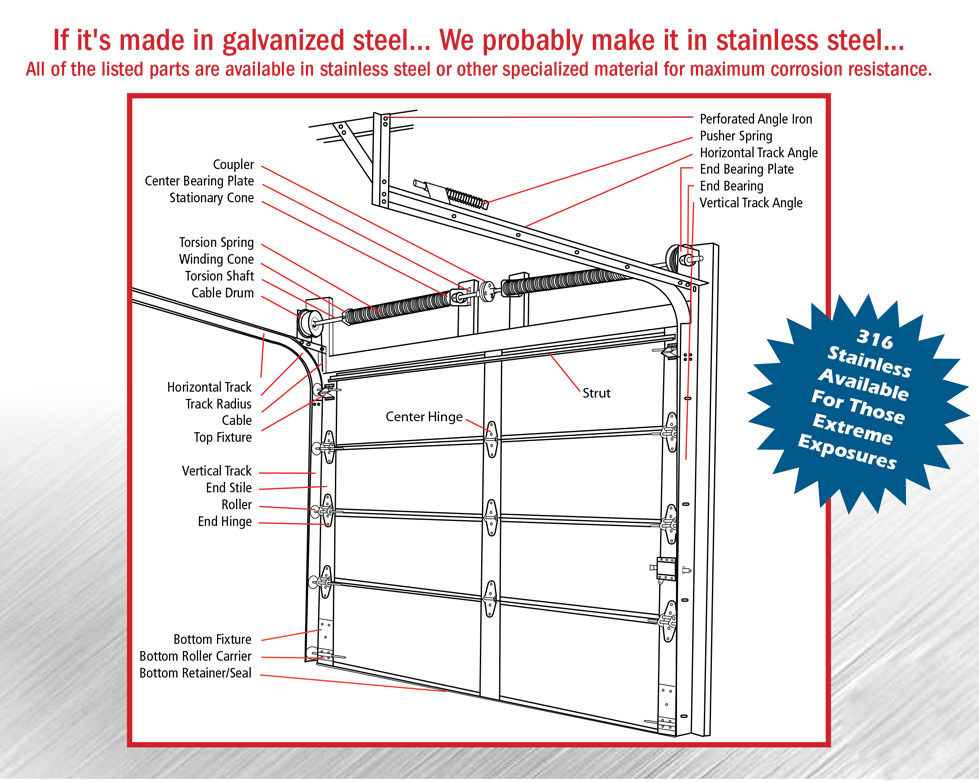 STAINLESS STEEL GARAGE DOOR HARDWARE PRODUCTS:
Track
Hinges & Face Hardware
Rollers
Torsion Springs
Bearings & Bearing Plates
Shaft
Cables
Pusher Springs
Angle Iron
Many Others!
Specify our stainless steel hardware with our complete polycarbonate or insulated garage door packages or add our specialty hardware to your favorite manufacturers' product. By specifying our specialty garage door hardware products; you are choosing the best in rust-proof durability, cleanliness and maintenance-free dependability that only stainless steel and similar materials can provide.
When choosing the best sectional overhead garage door system for your' non-typical install, insist on the ultimate in corrosion resistance, cleanliness and durability. Specify American Garage Door Supply's stainless steel overhead garage door and other specialty hardware.
NEED HELP CHOOSING THE RIGHT STAINLESS STEEL GARAGE DOOR HARDWARE FOR YOUR PROJECT? GIVE US A CALL TODAY AT 1-800-233-1487
Stainless Steel Hardware Information Request