EXTRA LARGE TRANSLUCENT POLYCARBONATE GARAGE DOORS
The brightest idea for agricultural, transportation and other big operations!
Goliath features an extra heavy-duty bottom rail and a large hat strut that adds a whole new level of structural integrity to your extra wide and/or extra tall polycarbonate door.
The heavy-duty aluminum bottom rail keeps your door straight and true with the strength that is required required handle the wide span without sagging virtually eliminating the "smiling effect" common with other products. An extra large aluminum hat strut provides the rigidity you need to resist the wind and prevent deflection.
Goliath still provides all the corrosion resistance you've come to expect and is available in our signature Silver, Gold and Platinum hardware models.
Constructed of the toughest corrosion resistant materials available. Survivor™ doors feature state-of-the-art materials to provide maximum life and durability even in the most demanding environments.
Designed for harsh, high use applications. Survivor™ doors superior section design and hardware ensure smooth, reliable operation year-after-year.
Engineered for minimal maintenance and service. Goliath doors reduce annual costs and delivers a better overall value for your operation.
Distinct appearance enhances your buildings appearance. Clear, translucent design allows light transmittance both inside & outside the doorway maximizing bay visibility and providing around-the-clock security & comfort.
Complete Weather Protection
Protects customers, vehicles, building interior and equipment from wind, cold weather and other hazards. 5 X-wall sections offer thermal protection in any climate.
Full Vision Sections
Powder Coat/Anodized Finish
Conveyor Cutouts
Hinge Gasket Option
Specialty Coated Shaftline Components
Polycarbonate Color Options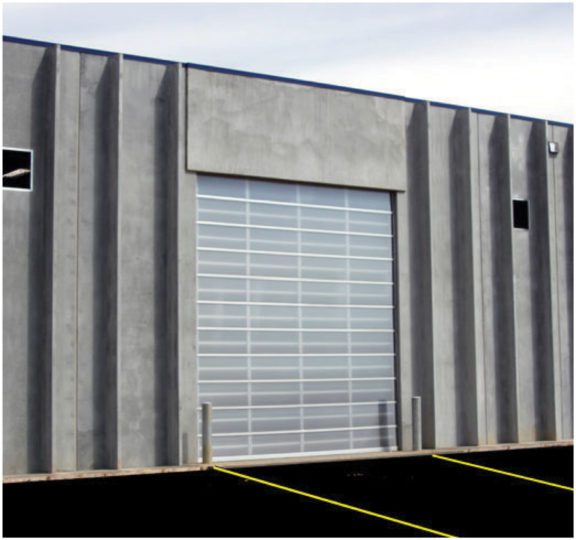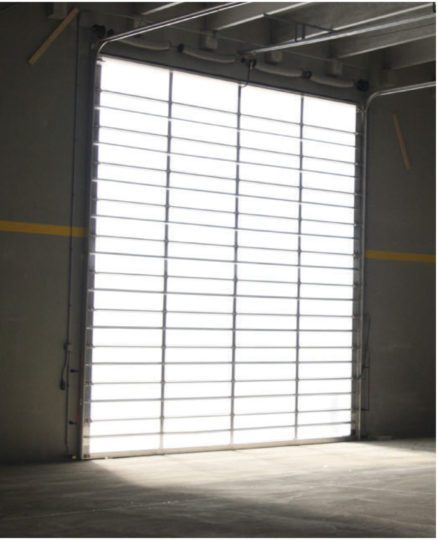 NEED HELP CHOOSING THE RIGHT DOOR PACKAGE FOR YOUR PROJECT? GIVE US A CALL TODAY AT 800-233-1487
Goliath Door Information Request
Advanced Materials.... Superior Product
5/8" Five X-Wall Polycarbonate Panel: Tough, shatterproof, translucent polycarbonate panels are strong, corrosion resistant and virtually indestructible. Polycarbonate panels allow high visibility.
Aluminum Alloy Frame: Heavy duty aluminum stiles and rails provide a strong, durable frame. Heavy duty bottom rail on bottom section adds rigidity and structural integrity to the door section. Available in powdercoat or anodized finish to match your color scheme.
Beveled Aluminum Rails Tongue & groove and beveled meeting rails shed moisture and eliminate watertraps.
Double Panel Seal: Double panel seal provides protection from dirt, contamination and moisture.

Hardware Packages To Meet Your Needs
Several hardware models are available to meet your building exposures, environment, amount of use and other requirements. Select the model that fits your buildings requirements and exposures to moisture, corrosion and other contaminants. Each model includes a different combination of materials ranging from corrosion-resistant galvanized hardware, to completely rust-resistant stainless steel.